After a very long year, I decided I needed a vacation to shake off some bad energy.
Some close friends of mine had recently decided that they would relocate themselves to the beautiful island of Kauai, the western most (and least developed) island of Hawaii.  Ali and Mike had moved last summer, so the timing to visit them was perfect since they had had some time to settle in and get the lei of the land (probably not the first to make that joke).
I landed in Lihue Airport, who's small size is complemented by the friendliest people I've ever experienced at an airport.  And after a 12 hour flight from DC, I took what I could get.
After a decent night's rest, we ventured out to the coast to the Mahaulepu Heritage Trail for a hike and some beach time.  The weather, perfect.  The beer, Hawaiian (I love it).
My pictures really do not do the island justice.  There is a level of grandeur there that is really unmatched by any other location in the world.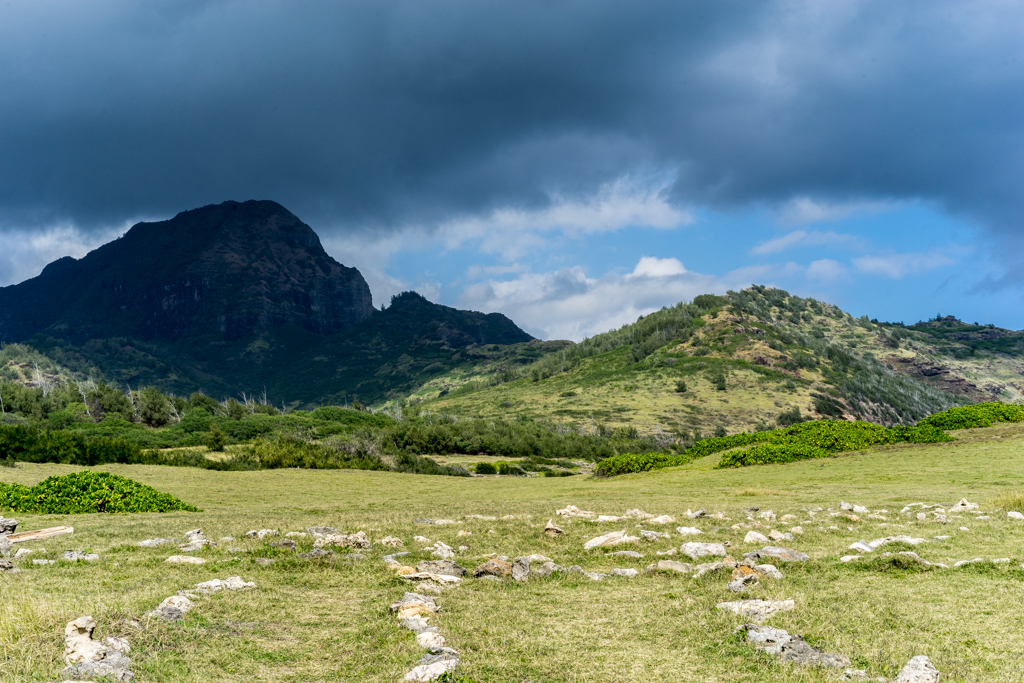 For me, Kauai wasn't about the beaches, which I think is what people might think first when they hear "Hawaii".  It's really about the juxtaposition of clear-watered coasts, very lush vegetation, and stark mountains that jut out of no where.  Just think Jurassic Park (which was filmed in Kauai).
The locals there are very adamant about keeping their last semblance of culture and natural environment in tact.  Of course, it's an island in a US State, so the push to develop over the land is very high.  It's a sad thing.
I thought to myself how great it was that there was only one or two Mcdonalds across the entire island.
Civilization lies on the fringes of the island, with the majority of the center being nature reserves.  There is one main road that takes you around the perimeter of the island, with beautiful beaches and novel (and old) little towns that have a lot of heart and soul.
My friends took me to a secret beach off of the Manaulepu Trail. It required descending from a gnarly little cliff, which made it all the more worthwhile.
Absolutely nobody around!  Again, such beauty.
After that we decided to head to one of their favorite beaches called Poipu, and its neighboring beach Brennecke.  Although it was populated, it was definitely bearable.  One thing that I have to mention is that the island is full of hens and roosters.
They've basically become the island pests.  Of course they're beautiful, beautiful creatures, but they'll definitely come right up to you and try to peck food right out of your hands.
Chickens, along with goats and rats, were brought to the islands with Captain Cook and his band of burly buccaneers. Before his untimely demise of course.
I have about 30 shots of just chickens.
My friend Ali also took me to another beach on the southwestern side of the island called Salt Pond, which became my favorite beach both because of the tame surf and beautiful rocky outcroppings,  but also because of the friggin ridiculous caramel salt gelato that they named after it.  I crushed two of those puppies so fast, I nearly bit my hand.
On the fringes of these beaches, one can find tents and little pop up homes.  I guess people don't really tell you much about the homeless population in Hawaii, but there is definitely a contingent of people without homes.  Well, without solid, immovable structures.
The way of life there is carefree and lackadaisical.  People don't care about what they're wearing when they leave their houses.  They are more concerned with other matters, and also, enjoying life around them.  Its a value that many people seem to forget in their bustling city lives. Enjoying what's around you and not be as concerned about your destination.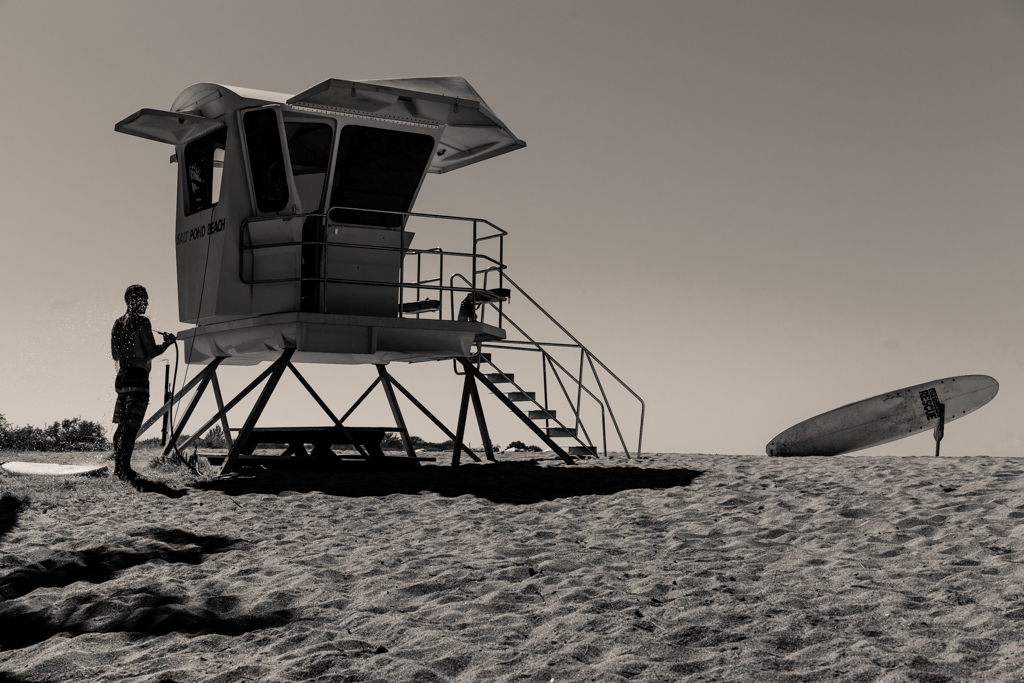 There isn't much of a night life on Kauai.  Everything happens when the sun is up, and people shut down at around 7 pm.  But on some nights, you can hit ol' Hanapepe for an art walk, which is exactly what we ended up doing.  Food trucks, knick knacks, and art are sold until 9 or 10 in the evening (I think).
It was great to see some live musical performances set up along the road, ranging from traditional to modern.  The island is such a melting pot of cultures that it reflects in absolutely everything.  So although many of the natives are averse to major developmental change, they are at the same time a product of multicultural amalgamation.
My friends were kind enough to drive me around the eastern side of the island to the north shore, which is where more of the tourist traps and affluent mainlanders own houses.  The notable beaches where I captured these shots are Moloa'a Beach, Anini Beach, Hanalei, and Ke'e Beach.
We noticed these really peculiar and interesting spiders at Moloa beach that wove zig-zags into their webs.  They were beautiful and terrifying!  All over the place.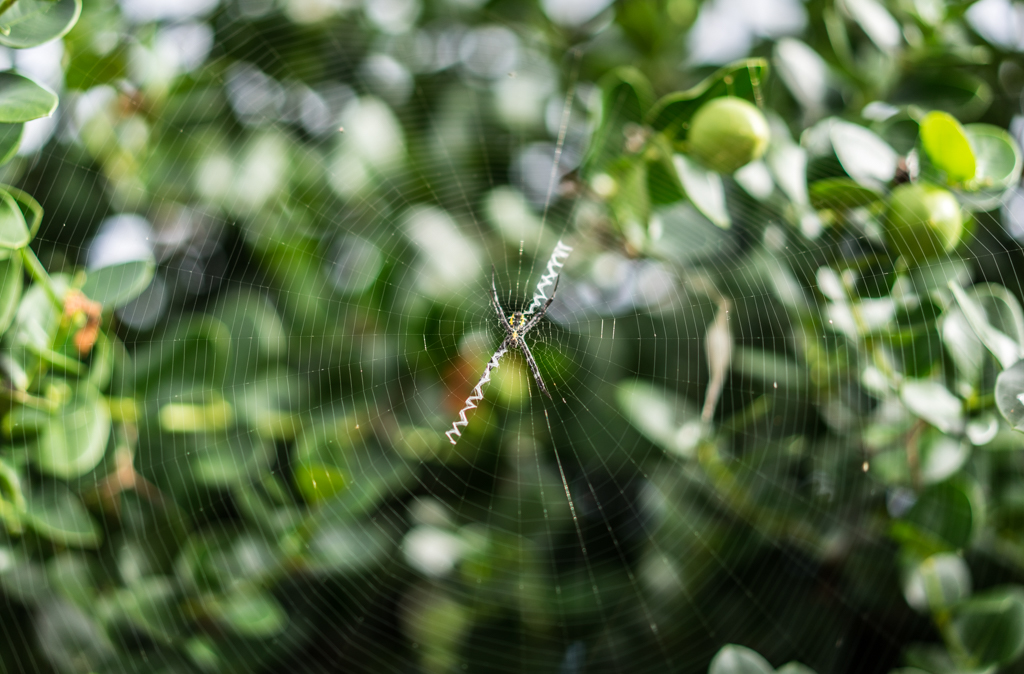 The weather at the north shore is much wetter than the rest of the island.  I believe this is due to the geography and topography, but not sure of why exactly.  Plus, my visit was at a time of year that is particularly tumultuous and rainy.  The waves up there are choppy and can get very large, which draws surfers.
The mountain cliffs at the north shore are very popular for hiking, with a massive (and somewhat dangerous) trail called the Kalalau trail.  Documentation of our hike on that trail will be in the next post. 🙂
The last picture is from Shipwreck Beach, where my friends and I had a bonfire and stared at the beautiful night sky over some beers and tunes.  Unfortunately, that night was the night we heard David Bowie had passed, so the evening ended on a somber note.
More to come in Part 2!!!